Congratulations to Peter for winning the 2016 BEARS Raffle drawn by Brendon Jones from 2WSFM and Temporary Australians. Peter just happened to be at Fraser's looking at bikes when he purchased a ticket half an hour before the draw, when Jonesy drew out his name, the reaction was priceless.
He has not decided which bike he wants, but we wish him the best of luck.
We would also like to thank everyone who bought a ticket in the raffle, as a not for profit organisation BEARS relies on raffles and sponsorship to run a national and club series each year. The money raised from events such as this allows us to organise and promote affordable racing for anyone with a BEARS bike.
See what constitutes a BEARS bike HERE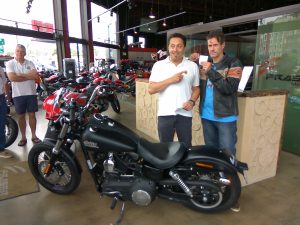 Winners of the 2016 BEARS Raffle
# 354 Peter Kyra
# 597 John Price
# 457 Chris Hallam
# 936 Steve McCall
# 159 Darren Lewis
# 584 David Trotter
# 966 Stan Lam
# 433 Brock Pearson
# 19 Jesse Alday
# 994 David Clarke
# 526 Marc Balestro
# 829 Paul Casson
# 960 Matt Syme
#9 Cormac O'Mahoney
# 474 Leigh Halloran
# 980 Chris Williams
# 887 Garry Jordan
# 110 Russel Hambleton
# 903 Yiannis (Tim) Carsring
# 620 Adam Vella
# 853 Matt Edwards
# 22 Rob Comerford
# 678 C Knight